A.1. The nature of the product or service
Electrical products including flat panel TVs, refrigerators, washing machines, personal-care products, microwave ovens, home audio equipment, video equipment, vacuum cleaners, rice cookers), air-conditioners (such as room air-conditioners, large-sized air-conditioners), cold chain (such as showcases), and devices (such as nanoe, metering device, fuel cells) related products (Panasonic Global,2020).Industry attributes include not only the product itself, but also a lot of work around the industry, including ideas, market research, R & D, sampling, bulk production, pre-sales service, marketing, after-sales service, brand maintenance, etc. In any of these jobs I think Dorosin have stood out from its related industries.Especially in Chinese market,which focusing on B2C businesses such as house-hold dehumidifier and commercial dehumidifier, B2B businesses such as cooling and heating appliances for commercial use, industrial use, devices, energy etc.
A.2. Information about customers and channels of distribution
Customers of industrial electrical appliances generally include enterprise users, engineering companies and government units, and some companies engaged in project supporting services may also become customers of industrial electrical appliances. Industrial products industry channels also retain the previous agent, wholesale, stores and other offline sales channels.
The customers and channels for household appliances are different,which can be sold to all of the peoples and families.As long as there is a family and a place where people live, they can't live without appliances and without air. Of course, I'm talking about modern society. So the customers are very wide, here do not do segmentation, all human being will be our customers.
Before the popularity of e-commerce, most of the global home appliance brands entered each market through agents. In recent years, because of the development of the Internet, great changes have taken place in the sales channels of major brands. The home appliance market has already entered the stage of simultaneous promotion of online and offline markets, and the pattern of the two is constantly tending to very near scale. Moreover, in recent years, the online market has continuously diverted the offline scale.So in this moment,these kinds of products can be delivered to our customers via local/authorized distributors and e-commerce shoppes.
A.3. Size of the industry (sales)
The home electrical appliance industry, which includes major and small household appliances is a multi-billion dollar industry. In 2019, it sales amount is more than 320 billion U.S. dollar. It is forecasted should keep growing in the next few years, achieve the value more than 450 billion U.S. dollar by 2023 (Arne Holst.2020.).
Considering from retail sales value, the worldwide Household appliances retail sales value is 435.4 billion U.S. dollar in 2019, and be forecasted to reach 506.8 billion U.S. dollar by 2023, growing at a CAGR of 4.2% over the period 2015-2024 (Arne Holst.2020.).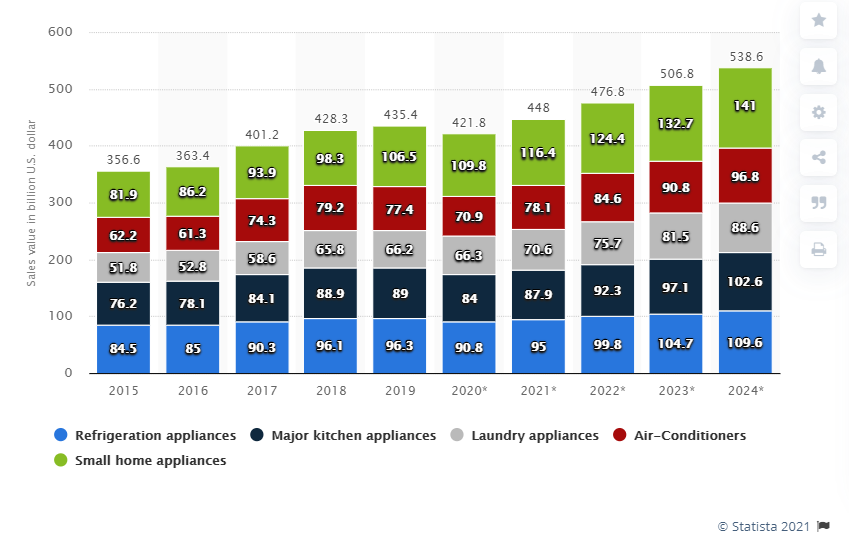 Figure 2. Source:
In Chinese market, under the combined influence of internal and external factors such as the significant slowdown in global economic and trade growth, the intensified Sino-US trade conflict, the decline in domestic economic growth, and the low operation of the real estate market, the domestic retail market of the home appliance industry in 2019 was 803.2 billion yuan, year-on-year down 2.20% (Joint Credit Research Report.2020.).
In Chinese market, China's household appliance industry has a high degree of concentration, and the large-scale benefits of leading enterprises are significant. The turnover ability of working capital is at a high level in the industry, and it has a strong voice in the supply chain and ability to resist cycles. In the future, with the resonant influence of factors such as the recovery of demand for home appliances in the post-cyclical real estate industry, the overall industry policy stimulus, and the return of overseas orders brought about by the new crown epidemic, the overall outlook of China's home appliance industry is stable. (to be continue)