About Dorosin? What is Dorosin and how is going on with household appliance industry and portable air conditioner industry?
A. Basic description of the household appliance industry
The company and related industries we will talk about is Dorosin Corporation,which headquarters located in Guangzhou, Guangdong,China. Dorosin founded in March, 2003 from household dehumidifier industry. Dorosin provide products and services for a wide range of spaces.
1) Electrical air dehumidifier,humidifier and portable A/C from homes to offices and buildings.
2) Air treatment solutions
3) Temperature and humidity solutions
4) All the industrial room air field
5) Industrial Solutions
From above industries Dorosin involve,I do some researches in electronics industry and will share what information I reach in following pages.
The electrical industry is divided into household appliances and industrial appliances, focus of this chapter will be in the field of household appliances.The development of the world's electrical industry can be divided into three stages as below:
In the first stage, taking the opportunity of the second industrial revolution (the late 1860s), people began to develop the lighting industry, gradually produced radios, televisions, refrigerators, washing machines, etc., until we began to establish the telecommunication system (Han Yang & Heng Yang. 2020).In this stage I think most of the electrical products made in EU &US,some of them from Japan.
In the second stage, from 1945, electrical products began to be popular, and consumer electronic products gradually rose (Han Yang & Heng Yang. 2020).
In the third stage, from the 1970s, small household appliances began to enter the consumer family, and some personalized and portable electronic products were favored by consumers.China's home appliance manufacturing started and developed in this period. Although it started late here in China, after 30 years of rapid development, the sales of world-famous brands have been impacted by Chinese brands, and the competition is more fierce (Han Yang & Heng Yang. 2020).
Even the competition is fierce, the data shows that the sales volume of global home appliance market will be good from 2006 to 2019. Among them, the global sales volume of major household appliances was 387 million in 2006, exceeded 500 million in 2016, and reached 570 million in 2019. The global home appliance market shows a rising trend year by year (Han Yang & Heng Yang. 2020).
Global sales of major household appliances in 2016-2019 (Unit: Million Units)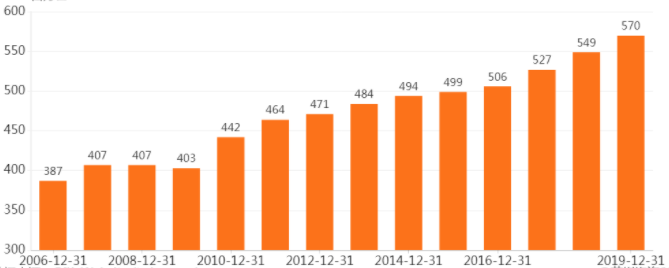 Figure 1 . Data sources: Gfk; Website(Twice.com)
B. Basic description of the portable air conditioner industry
This kind of portable ac we also call compressor spot cooler,it have a long history from EU countries and have a long journey before coming to Chinese factory.
1. 1986 Delong bland innovated the compressor portable ac,only one unit combine without outer machine,total different from the split normal type ac,it was began from Italy.
2. 2002, this kind of industrial portable ac were made in United States and Japan then moved from Japan to Taiwan before arrived to Mainland China.
3. 2005 Japanese and Chinese joint venture built in China,but Japanese provided Design and cooling technology at that time.
4. 2012 from this year some of the Japanese and Korean brands they began ship containers to US market and set local office to server their spot cooler distributors.
5. 2012 Japanese spot cooler and Korean portable ac started to export to Asia countries,but not much qty since high cost and high sales price,only some rental business use this kind of air conditioner.
6. 2015 since this year more and more Chinese ac manufacturer learn to produce same kind machine and export to Japan and Korea,but in these year,only do OEM order from other countries.
6. 2018 From this year Dorosin began to export portable ac to Japan, Korea and other Asian countries,such like India, Indonesia, Thailand, Vietnam, Philippines.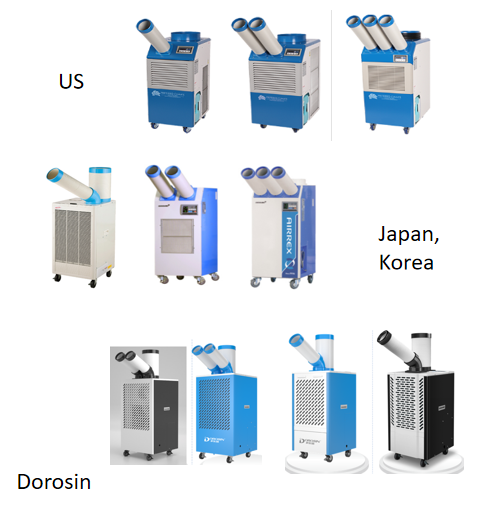 Global Development about this kind of portable ac in each different country.
Developed countries: most of the peoples would like to use compressor cooling in hot summer days, they don't like using water cooling and electric fans.
US: Cost for this kind of ac still Expensive, for this reason they are only used for ac renting and equipment cooling.
Japan and Korea: in these two countries they called it spot cooler, widely used for spot,personal cooling at hand,move following.
China and other Asia: Some of portable ac used for equipment cooling, special environment cooling, will use for personal cooling and post cooling.
India, Middle East, Africa: this kind of spot cooler used more and more for all industries, factories,shops and outdoors.